Experience EMSCULPT
Build Muscle and Sculpt Your Body
---
ABDOMEN
The world's only procedure that simultaneously builds muscle and sculpts body. Emsculpt is a whole new category of technology: HIFEM® procedure induces approximately 20,000 intense muscle contractions per session.
BUTTOCKS
Enhance the shape of the buttocks with EMSCULPT. The gluteal muscle cycle is structured with intensity and pulse duration to cause hypertrophy (thickening) of the muscle fibers.
Tiered pricing
Emsculpt is a repeatable procedure without consumables ensures patient satisfaction and procedural adoption. Learn about our tiered pricing incentive designed to optimize your results.
---
allure md + emsculpt newport beach
PLASTIC SURGERY DERMATOLOGY SKIN CARE WELLNESS
Backed By 13 Clinical Studies
-19% Reduction In Fat
+16% Increase Muscle Mass
Look Good, Feel Good…Emsculpt Studies Prove It.
---
Tone and Shape Your Body
No Downtime, No Anesthesia
---
WHY EMSCULPT?
Emsculpt is the world's first non-invasive energy treatment with FDA clearance for the improvement of abdominal tone, strengthening of the abdominal muscles, development of firmer abdomen, and strengthening, toning and firming of buttocks.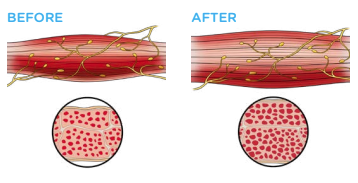 HOW EMSCULPT WORKS
Emsculpt uses non-invasive HIFEM (High-Intensity Focused Electromagnetic) technology to induce supramaximal muscle contractions not achievable through voluntary contractions through exercise. When exposed to supramaximal contractions, the muscle tissue is forced to adapt to such extreme conditions and responds with a deep remodeling of its inner structure, i.e., the growth of myofibrils (muscle hypertrophy) and creation of new protein strands and muscle fibers (muscle hyperplasia). Increased muscle density and volume lead to a better definition and muscle tone. These powerful contractions induce excessive demand for energy resulting in permanent death of fat cells.